Do you ever leave a hotel and wonder why you sleep so much better? Between plush comforters and crisp luxurious sheets, it is very hard to beat the level of comfort achieved at luxury hotels.
With these steps from a veteran Director of Housekeeping at some of the most desirable hotels in the world, you won't have to splurge for a good night's sleep again!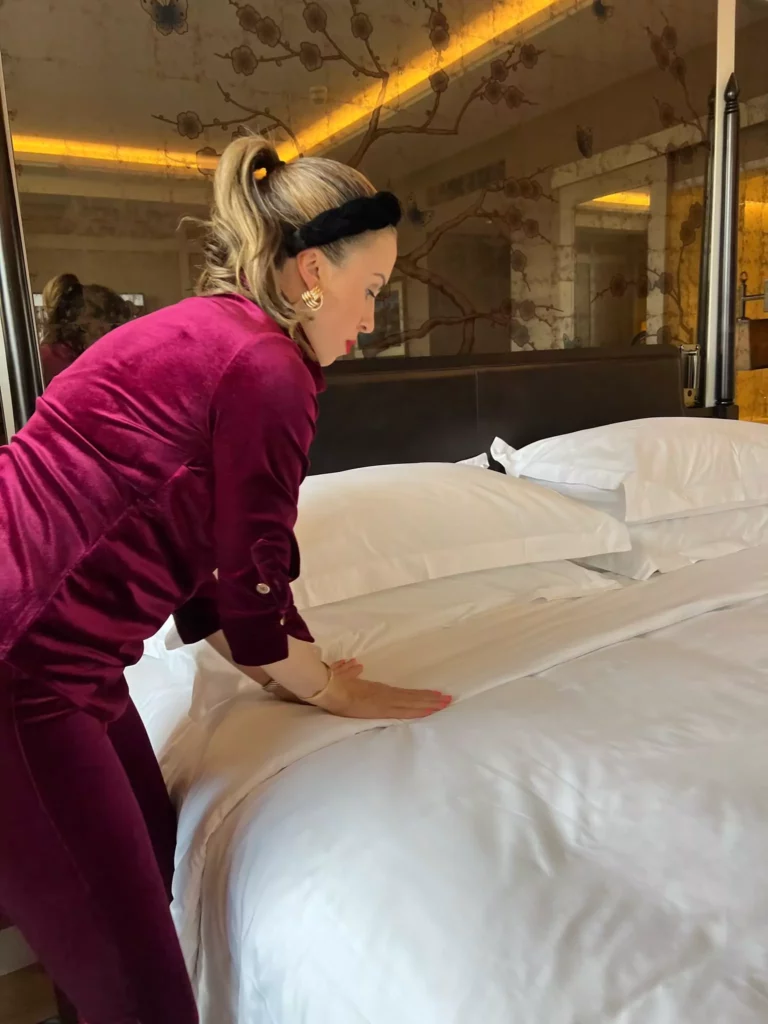 1. Start with a good quality mattress
A comfortable mattress is the foundation of a good night's sleep, and the key to making a perfect hotel bed. Make sure to invest in a good quality mattress that is comfortable and supportive. We know it is super tempting to purchase a mattress online, and for convenience we are all for it. However, we recommend going to a store to test out mattresses that best suit your style to determine if you prefer foam, innerspring, hybrid, or gel grid.
2. Add a mattress pad or topper
A mattress pad or topper can help add an extra layer of comfort to the bed, and protect the mattress from wear and tear. Even the most comfortable mattresses in hotels have a topper to ensure the mattress sustains a long life.
3. Use high-quality sheets
The sheets you use on your hotel bed should be soft, comfortable, and durable. A higher number of threads per inch usually means each yarn is finer, so more of them will fit in the square, creating a smooth yet strong weave. As we mention above, thread counts of 200 to 300 for percale, 300 to 600 for sateen, and 80 to 120 for linen should indicate a good-quality fabric.
4. Layer your bedding
Layering your bedding will create a luxurious and comfortable sleeping experience. Start with a fitted sheet, add the flat sheet wrong side up, plenty of room at the top to fold over your blanket or quilt, then a duvet or comforter, and finally, decorative pillows and shams. For those looking to go the extra mile: Place your duvet on top turned halfway down and add a quilt either flat or turned down over it or fold your duvet in thirds at the base of the bed.
Pro tip: For an extra–plush look, stuff 2 inserts, a duvet one size larger, into your duvet cover to achieve luxury hotel bedding status. 
5. Choose the right pillows
Pillows are an essential part of a good night's sleep! But pillows come in all shapes and sizes. Similarly to mattresses, we recommend physically testing out in store before purchasing to see if firm or soft is your preference.
Pro tip: "Use pillow shams instead of pillowcases to give a more refined look of a luxury hotel, to standard pillows. You can match these to your sheets, or use them to add in another color or pattern." explains Douglas Conti, Hotel Operations Manager for Life House.  
6. Finish with a bed skirt
A bed skirt can add a finishing touch to your hotel bed, and also help hide any under-bed storage or boxes.
Etiquette Tip: If you are hosting company and you really want to impress, plug in your iron next to the bed, place a towel beneath the folded–over portion of your top sheet, and iron or steam it.