Being trained in London by a former member of Her Majesty Queen Elizabeth's household staff, I had the great honor of learning some of the same etiquette lessons that were taught to Princess Diana, which I see many similarities with that of Catherine, Princess of Wales. Known to be one of the most elegant and gracious of her generation, The Princess of Wales is as kind and polite as she is chic. Here are some of my favorite etiquette tips that you can also easily integrate into your daily lives wherever you may be, tiara or not!
1. The Princess has her go-to sitting positions that always keep her looking perfectly poised with excellent posture. Whether at your next boardroom meeting or dinner date, these easy-to-follow options will be sure to make you look instantly polished. To get the look, keep your knees and ankles together and either cross your legs the ankle or try the "Duchess Slant", a viral term coined by Myka Meier to describe this royal etiquette pose. As she explained to People magazine, "It is the perfect pose for when a camera is shooting directly in front of you because by slightly slanting the knees to create a zig-zag effect when wearing a dress or skirt, your legs are angled so that the camera only shoots the sides of your legs and protects your modesty."
2. In her social circles, the Princess is often seen using an air kiss. The air kiss is always right cheek to right cheek. Remember: It's one kiss in NYC, two in London and even three kisses in some countries, such as Switzerland.
3. It's all about Grace! To appear more graceful… simply slow down, both your hands, movements and the speed of your voice! As a patron of The Princess Grace Foundation, I teach students this technique made famous by Princess Grace and used amongst royals globally.
4. What should you do with your hands when you don't have anything in them? Try putting the webs of your hands together and in front of you for a royally-inspired "resting" poise.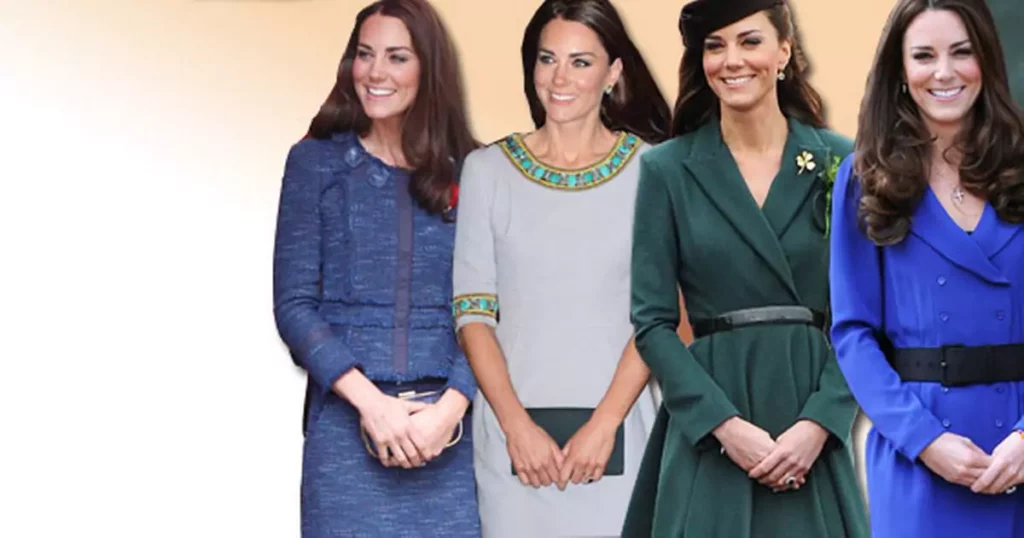 5. The Princess typically gestures with her hand instead of pointing with one finger.
6. Elegant style also comes in the form of grooming. You may notice that the Princess usually wears a neutral or light pink shade of polish on her nails, which won't clash with colors worn within her outfits. On occasion we see her play with darker shades too. Her nails are always manicured and never chipped. Often, she even goes without any polish at all and instead, opts to simply have a clean-cut look with buffed nails.
7. Holding your Tea cup with regal perfection- If the Princess stands, she holds her saucer with her teacup. Oh, and never put your pinkies up!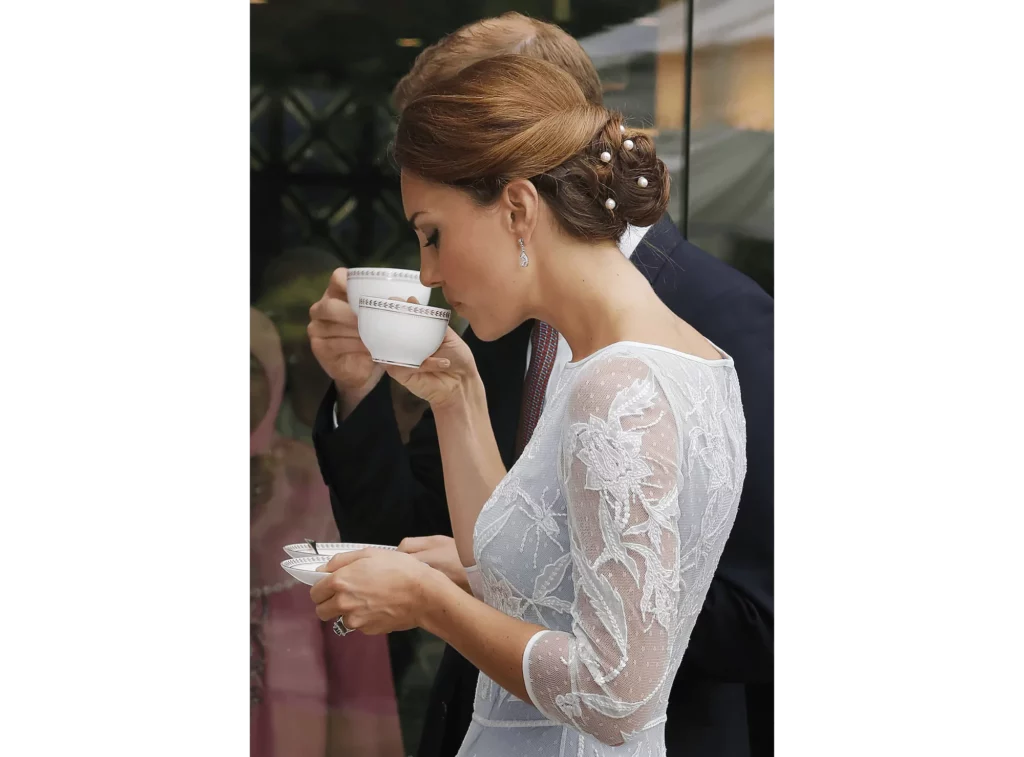 8. One thing you don't see? The Princess of Wales chewing ice or gum in public!
9. Hold your Cutlery Correctly – Your fork stays in your left hand and your knife stays in your right (no matter if you are left or right handed) when cutting. Index fingers are the only finger on each side that point outward toward the prongs and blade.
10. Kindness: Having etiquette like The Princess of Wales simply means being kind, thoughtful, respectful and gracious to everyone around you. Think of others first, and throw kindness like confetti. Nothing bad has ever come out of being kind, and the Princess leads a stellar example of showing respect to all people.
If you want to learn more, take Myka's famous online course inspired by Royal Etiquette called The Duchess Effect.