As summer winds down, it's natural to feel a bit bummed. Those lazy beach days and sunlit barbecues become cherished memories. But hey, don't get stuck in the summer-ending slump! Fall's around the corner, and it's bringing a whole new vibe with it. Think cozy nights, the crunch of leaves, and all things pumpkin-spiced. Need some inspiration for the cooler months? Here's a list to kickstart your fall and remind you of all the good stuff yet to come. Let's get into it!
1. Apple Picking and Baking
Say hello to apple season! Head to a local orchard for a day of apple picking. The real magic happens when you return home. Transform those juicy apples into mouth-watering pies, crisps, or ciders. Bonus? Your home will smell divine. Try our favorite Apple Pie recipe here.
2. DIY Craft Night
Pinterest and Etsy are chock-full of autumn-inspired crafts. From leafy wreaths to candle making, grab some friends, or indulge solo, and craft your evening away. You can even prepare holiday gifts in advance!
3. Weekend Getaways
This requires a tad bit of planning and budgeting. Leaf-peeping, anyone? Choose a scenic spot famous for its fall foliage and spend the weekend embracing the beauty of nature.
4. Themed Dinner Parties
Have a potluck dinner party with autumn-inspired dishes. Think pumpkin soup, roasted butternut squash, and spiced apple tarts. Not only is this a feast for the stomach but also for the soul as you enjoy the company of loved ones.
Adding the perfect fall festive playlist really completes the night! Don't forget some of our favorites, "Witchy Woman" by The Eagles, "I Put a Spell On You" by Screamin' Jay Hawkins, or of course, the "Monster Mash" by Bobby "Boris" Pickett
5. Outdoor Movie Night
While the chill hasn't set in completely, set up a projector in your backyard and host a movie marathon. Warm blankets, popcorn, and classic films under the stars – could it get any better? Some of our seasonal favorites are
– Halloween (1978)
– Hocus Pocus (1993)
– The Nightmare Before Christmas (1993)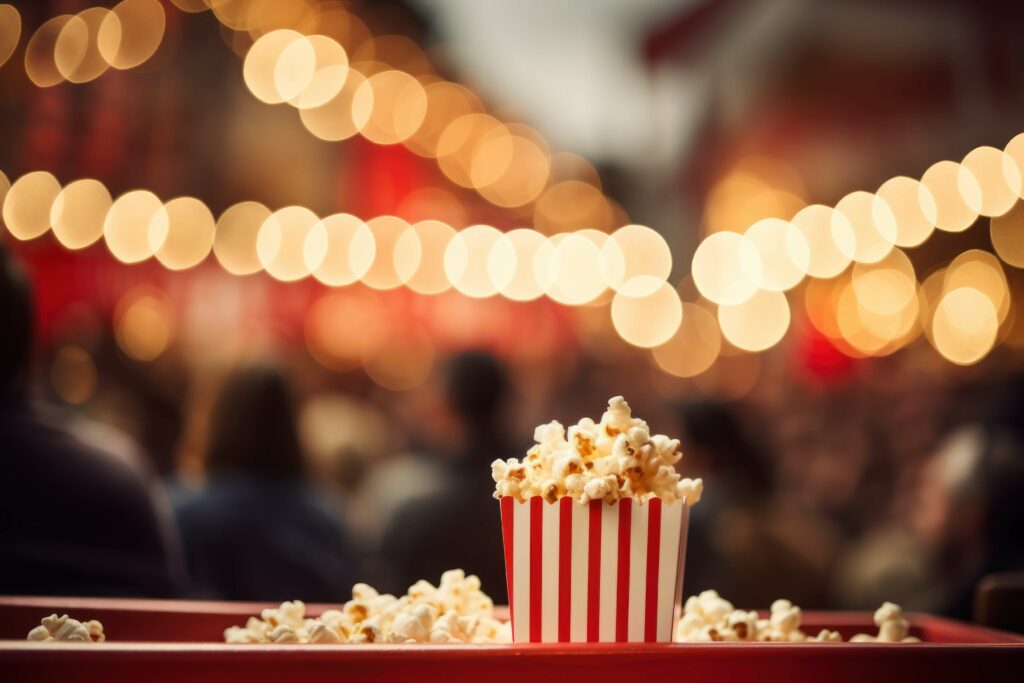 Photo Credit: Vecteezy
6. Hiking Trips
Explore the beauty of nature in its autumnal glory. Local parks or trails give you an opportunity to breathe in the fresh, crisp air, and witness the vibrant fall colors. And the best part? It's free!
7. Autumn Date Nights
Whether it's with your significant other or just a friend, local activities like corn mazes or haunted hayrides make for fun and memorable outings. Follow it up with hot chocolate or spiced lattes at a local café.
8. Girlfriend Getaways
A weekend spa retreat or simply a local B&B trip with your girlfriends can be just the thing you need. Laughter, gossip, and relaxation – it's a trifecta of happiness.
9. Local Fall Festivals
Most towns host fall festivals complete with pumpkin patches, scarecrow contests, and food stalls. Immerse yourself in local traditions and maybe even discover a new favorite snack.
10. Start that New Hobby
A school year reset is the perfect time to commit to a new hobby you've been itching to check out. Whether it is an entry-level pottery class, a new workout studio, a scrapbook, or baking, commit time to yourself to enjoy things that revitalize and rejuvenate you. It's easy to put ourselves last, but always remember, that filing your cup should be #1.
So, while the end of summer might make you a tad blue, let the oranges, yellows, and reds of fall lift your spirits. Dive into these activities and before you know it, you'll be sipping on eggnog and humming holiday tunes. Remember, every season has its charm – it's all about embracing the magic it brings!