The season of crisp air, breathtaking leaves, and an excuse to wear cozy sweaters. As the weather gets chillier, we're naturally inclined to spend more time indoors. But this doesn't mean the fun should be put on pause. Especially with kids in tow, fall is the perfect backdrop for creative at-home adventures. Here are our top five fall-themed activities to keep those little hands and minds active and engaged after school and on the weekends when your creativity is running low.
1. Autumnal Sensory Bins
What You Need:
A large plastic container
Fillers like dry leaves, pinecones, acorns, corn kernels, and pumpkin seeds
Small toys, like little pumpkins or animal figures
Scoops, tweezers, or tongs for an added challenge
How to Play: Fill the container with your chosen items and let the exploration begin! The various textures and shapes offer a tactile experience for children, stimulating their senses while they play.
2. Leaf Rubbing Art
What You Need:
Fallen leaves of various shapes and sizes
Plain paper
Crayons with the paper peeled off
Instructions: Place a leaf under a piece of paper. Using the side of a crayon, gently rub over the area where the leaf is. Watch as the intricate patterns and veins of the leaf appear on the paper. This activity is not only fun but also a great way to introduce kids to the wonders of nature's design.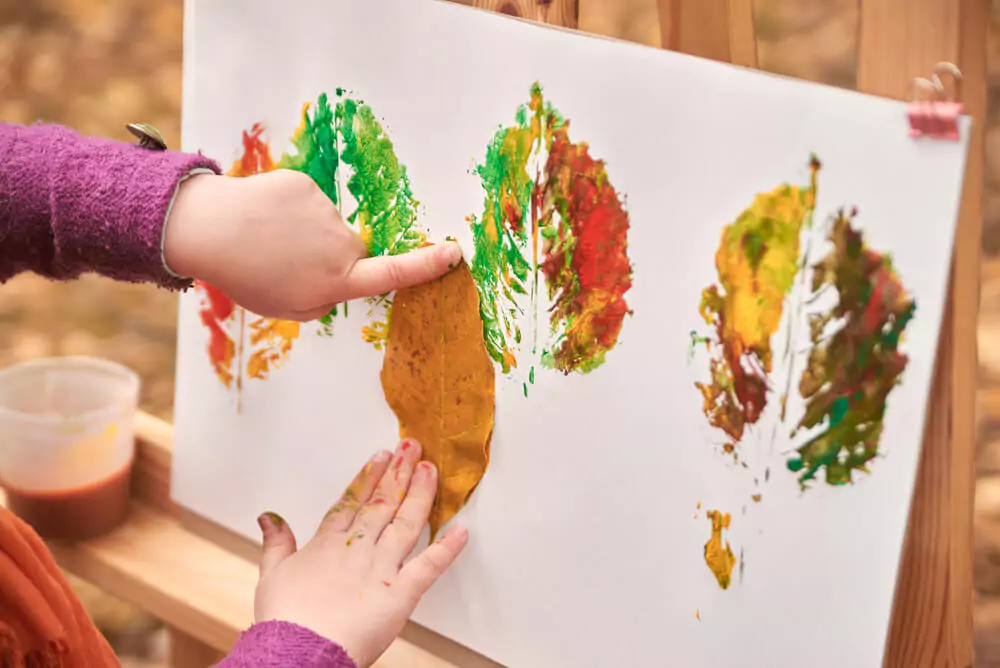 Photo Credit: ShutterStock
3. Pumpkin Volcano Experiment
What You Need:
A small pumpkin
Baking soda
Vinegar
Food coloring (optional)
Instructions: Carve the top off the pumpkin and hollow it out. Fill the pumpkin halfway with baking soda and add a few drops of food coloring if desired. Now, let your child pour in the vinegar and watch the fizzy eruption! It's a fun way to bring a little science into the mix.
4. Fall-themed Playdough
What You Need:
Homemade or store-bought playdough
Fall food coloring (oranges, browns, reds)
Fall spices like cinnamon, nutmeg, or pumpkin spice for scent (if making homemade)
Fall-themed cookie cutters (leaves, pumpkins, acorns)
Instructions: If making homemade playdough, mix in your choice of coloring and spices for that authentic fall feel. Once you have your playdough ready, set out a playdough station with the cookie cutters, and let your child's imagination run wild!
5. Homemade Bird Feeders
What You Need:
Pinecones
Peanut butter
Birdseed
String
Instructions: Tie a string around the top of a pinecone. Coat the pinecone in peanut butter, then roll it in birdseed. Hang your bird feeder outside and watch as the birds come to feast. This activity is a great way to teach kids about nature and the animals that are gearing up for winter.
---
Fall offers a rich palette of colors, scents, and textures that can make indoor activities as lively and engaging as outdoor ones. With a little imagination and a dash of creativity, you and your kids can make the most of this vibrant season, right in the comfort of your home. Happy crafting, exploring, and experimenting!