Paris is always a good idea. No matter the season, Paris is the perfect combination of sophistication, laid back elegance and decadence. No matter if you choose to spend hours perusing cafes, flower shops and cheese bars or find yourself in for an evening at one of the most glamorous restaurants that exist today, this city has it all. If you don't know Paris well and still want to plan an amazing date, choose one of these tried and tested experiences sure to leave your date dazzling in awe. Here are our picks for the best date spots in Paris you won't want to miss:
1 – Speakeasy Style Cocktail Bar with Dinner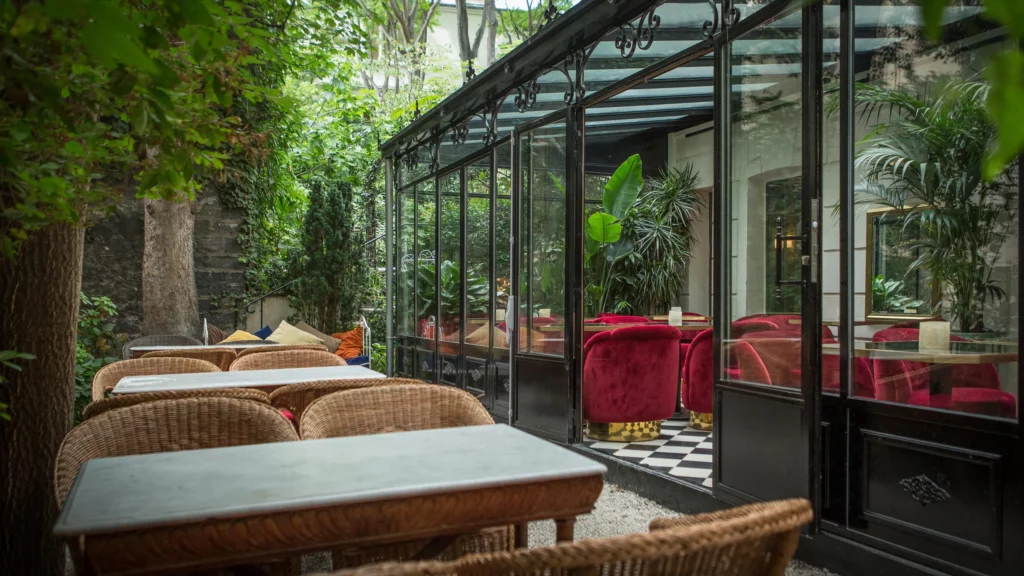 You'll probably be wondering as you walk up to this secret garden-style spot how you will get in, and it may take multiple buzzes on the black rod iron gate before someone lets you in, (even if you have a reservation). Welcome to Hôtel Particulier Montmartre, a cocktail bar, restaurant and hotel set back in a beautiful private garden of your dreams. As you walk across the cobblestone path, you'll eventually come across a beautiful, grande white building with columns that must have once been the private home of the most fabulous person in town. Nowadays however, it's open to the public. Making your way down the stairs you'll walk through palm trees, red velvet curtains and finally enter a black and white marble checkered floor that opens to gold barstools, an open garden with cocktail tables and the chicest people in town. Although it is a small hotel, the majority of people at happy hour seem to be after work Parisians sipping pink cocktails topped with whipped cloud-like egg white floaters. Afterwards, you can enter the dining room, where you'll find a menu filled with French delicacies including duck, scallops or roasted beats, exquisitely prepared. The music is great and the people watching is divine. With the notably perfect ambiance, this is one place that is sure to set your heart (and your date's) racing.
2. For the Urban Explorer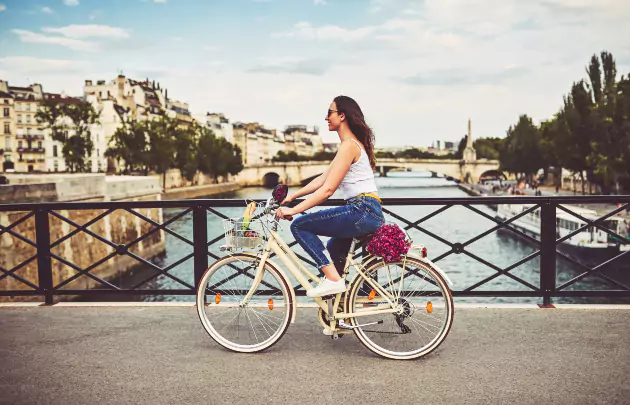 If you're one for adventure and love daytime dates, there is nothing better than exploring the streets of Paris via bike. We suggest hiring a private tour guide or joining a group, who will take you through the back streets of Paris to show you everything you want to see and more, from historical landmarks to the picturesque streets. It's the fastest way to see the sights while stopping for picnics and photos along the way. Explore vintage markets, see some of the best museums in the world, get lost in the parks, and end up at one of the countless wine and cheese serving brasseries. This social, active and fun date idea will not only give you the best photo spots, but will also leave you with smiles for days and maybe even a few new friends. The only downfall to this date is that you'll likely have a sore spot the next morning from craning your neck upwards at the seemingly endless balconies overflowing with flowers.
3 – Authentic Paris Experience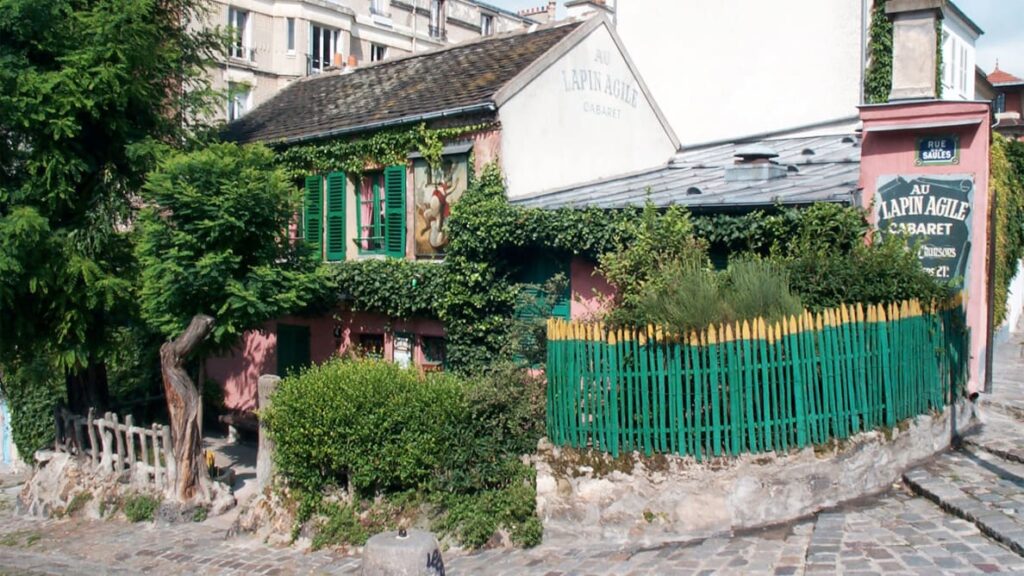 On a dark, quiet cobblestone hill, sits an antique looking orange cottage wrapped in vines, with oversized shutters and peaked roof tops that only a story book could rival. May we introduce you to Au Lapin Agile Cabaret, Picasso's go-to neighborhood place of entertainment and leisure, where he famously gave a painting to in exchange for food. This cabaret is a hidden gem, arguably one of the most authentic Parisian experiences you can have in the city today. When you hear the word "cabaret" you may have visions of can-can dancers in your head, however this couldn't be further from what it actually is. The word "cabaret" means "tavern" in French, and was used in the 1800s to refer to Parisian restaurants that offered shows with entertainment, singing, music, and dance. In fact, you will find no can-can dancers here and instead, the moment you walk into the cottage, you feel as though you have been transported back to the year 1860. Beware, the performances are all songs and poems in French and it is quite a long evening, however one of the most truly authentic, romantic, hilarious and intimate experiences left in Paris. Insider tip: It's recommended you book tickets up to three months in advance. That being said, if you bring cash and ask veeeery politely right before the show begins if anyone canceled or has not shown for their seats, the family owned and operated doorman (one of which happens to be the owner's son) may just let you in.