Planning an upcoming Bachelorette to Miami? Or just a girls trip? Miami offers the perfect blend of sun, sand, shopping, nightlife and incredible restaurants. If you're looking for a Miami trip itinerary for you and your girls, look no further. This guide will get you through the sights and scenes of Miami, like a local.
First and foremost, the best group restaurants:
1 – Sexy Fish
one of the hottest reservations in town right now. Sure to be a group favorite and the place to see and be seen. Truly a "clubstaurant"club experience at a restaurant, Miami has no shortage of these. Perfect for a dinner experience that gets you out of the club afterwards, or gets the group ready for a night on the town. Don't miss the caramelized black cod… Oh, and the Daniel Craig James Bond lifesize figurine in the men's bathroom.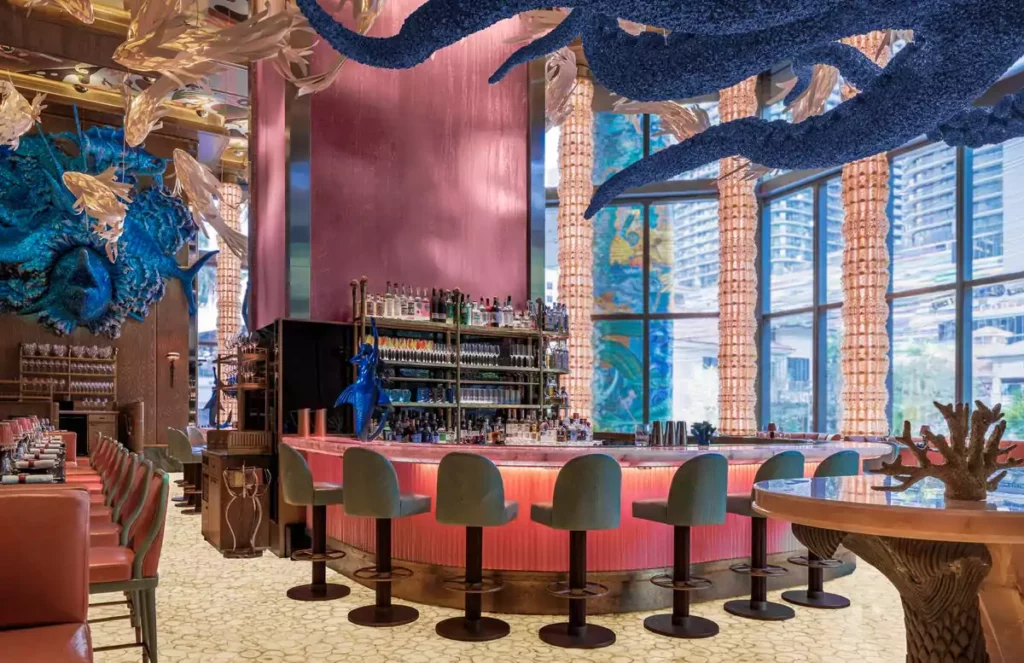 2 – Komodo
From Miami's hospitality king Dave Grutman, contemporary Asian cuisine in a trendy atmosphere. The restaurant is located in Brickell,known for its upscale ambiance, celebrity sightings, and creative dishes. The interior of the restaurant is designed to be luxurious and modern, with a mix of Asian-inspired elements and contemporary decor. The space features high ceilings, large windows, and a sleek bar area.The menu at Komodo features a wide variety of dishes inspired by Chinese, Japanese, and Southeast Asian cuisine. Some of the restaurant's signature dishes include Peking duck, truffle honey salmon, tuna and crispy rice, and wagyu beef dumplings.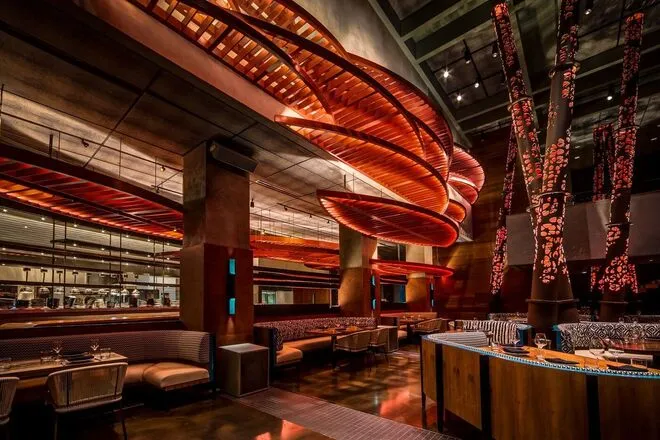 3 – The Drexel
Chef Nano Crespo's rustic and straight forward restaurant, by the founders behind Mandolin. Welcomed juxtaposition to many of the other Miami restaurants, The Drexel uses a minimalist design aesthetic, with pristine interiors. Do not sleep on the pasta options, our personal faves. Even just grabbing a seat at the bar is well worth your time.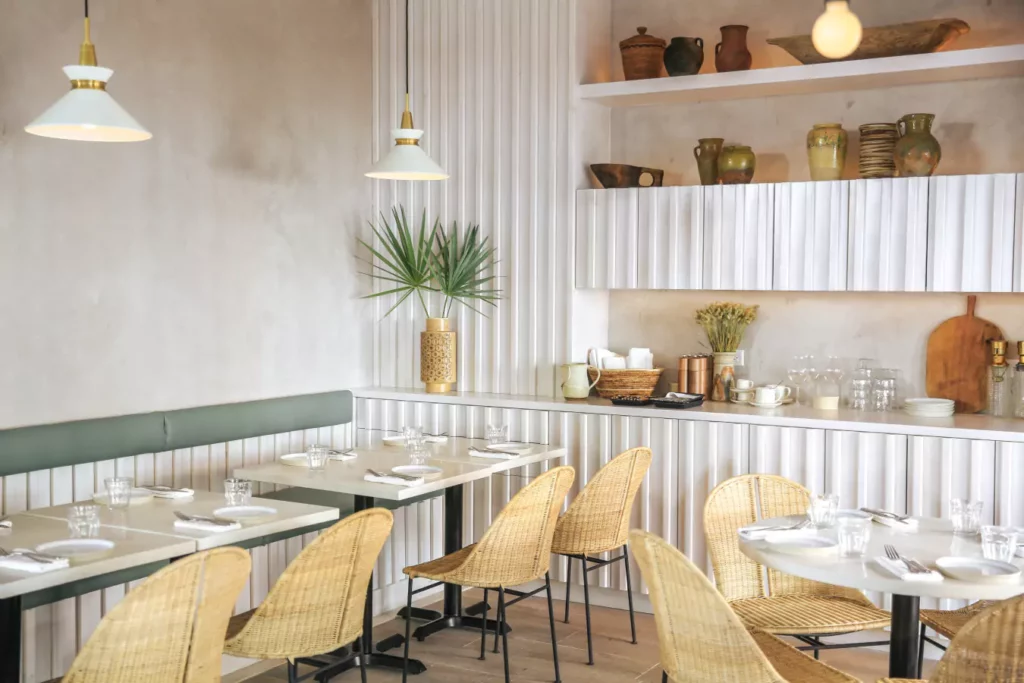 4 – Seaspice
Another clubby waterfront option, loud music, sparklers and bottle service, the whole nine yards. Be sure to request a waterfront outdoor table. Don't miss out on the octopus a la plancha, but you can't go wrong with much of the menu.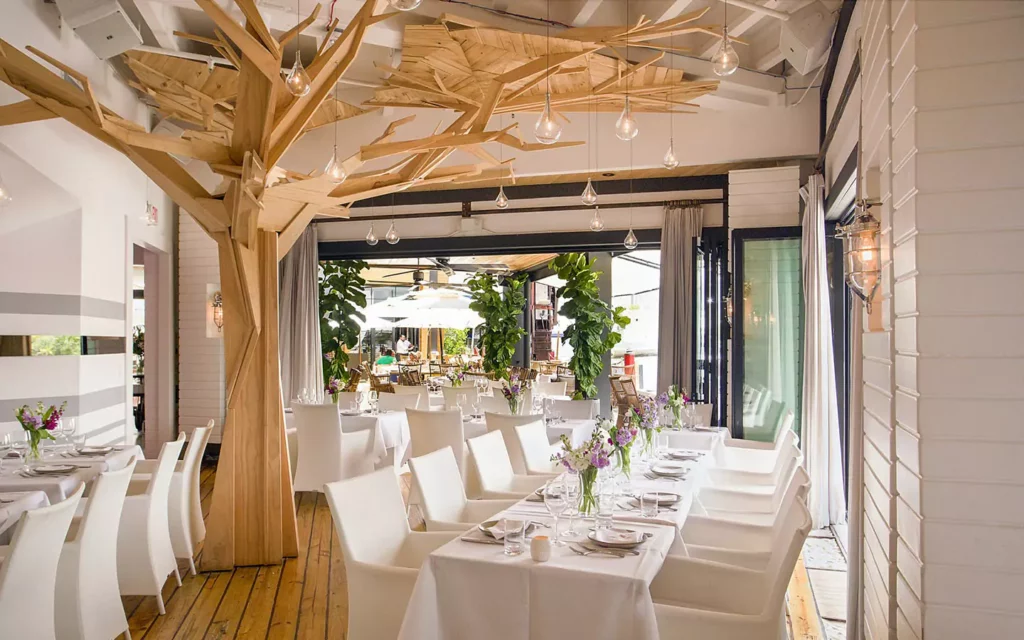 5 – Dirty French Steakhouse, Brickell
New York City's steakhouse brought to Miami from Major Food Group. High energy and French influences make for a night to remember.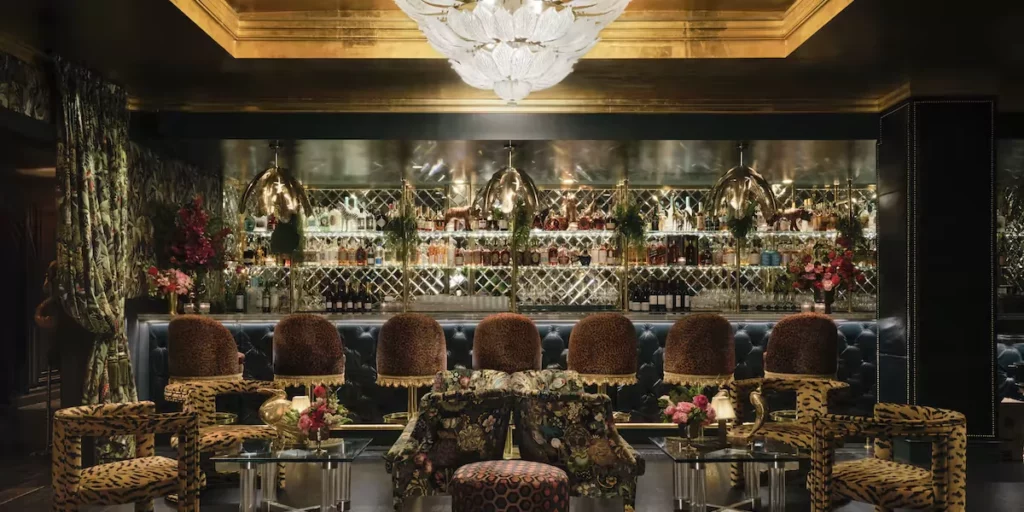 6 – Carbone
Miami jewel tones seating, stunning drapes and other old school glamorous Italian nods contribute to this one of a kind ambiance. The menu matches the interiors over the top and sure to make your evening. Of course, don't skip the spicy rigatoni or the table side caesar salad.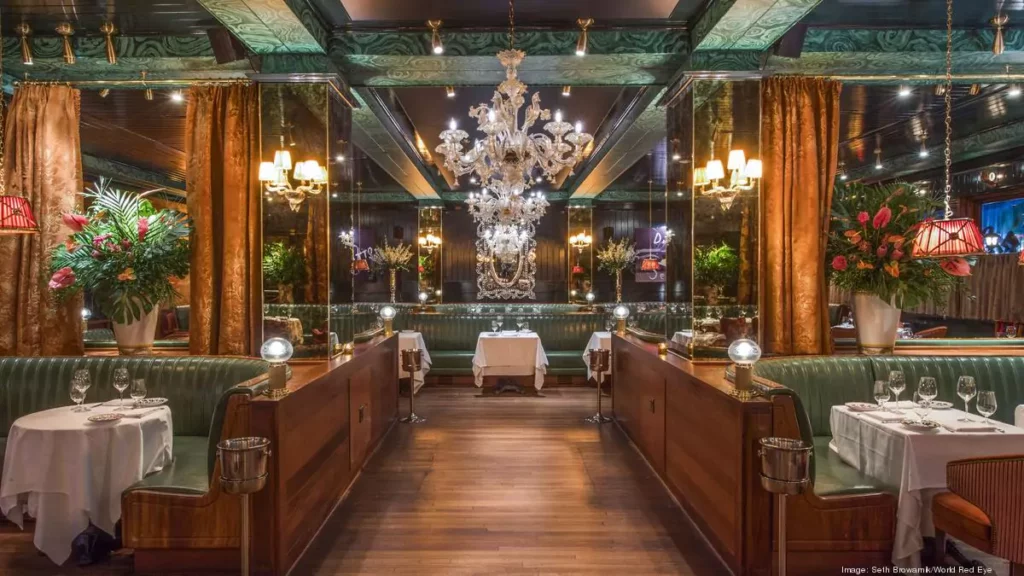 7 – Cote
Michelin-starred Korean steakhouse from New York City brings a new flare to the Design District. Upscale but approachable and fabulous for a group setting. Don't fret if you fear smelling like korean barbecue the rest of the evening, as their smokeless grills at each table lessen the stench.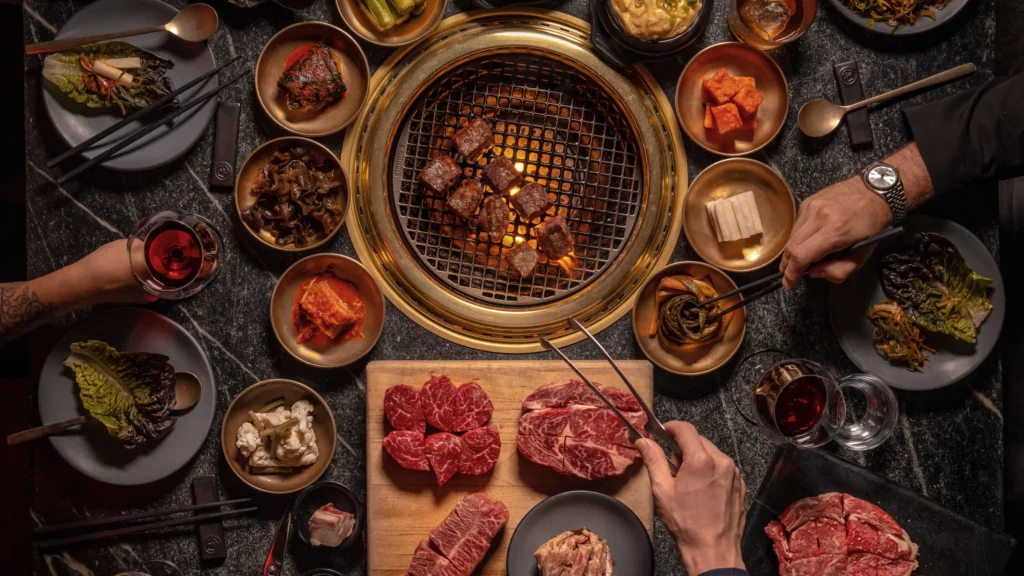 8 – Sofia
Design District, solid ambiance and a menu that pays homage to true Italian tastes. Perfectly set for the group photo in pink hues and an adorable outdoor courtyard. Portraits of icons like Grace Kelly and Audrey Hepburn can be found in the main dining room, another photo-worthy moment. Larger entrees allow for sharing, and delicious pasta from cacio e pepe to vodka rigatoni perfect for a group.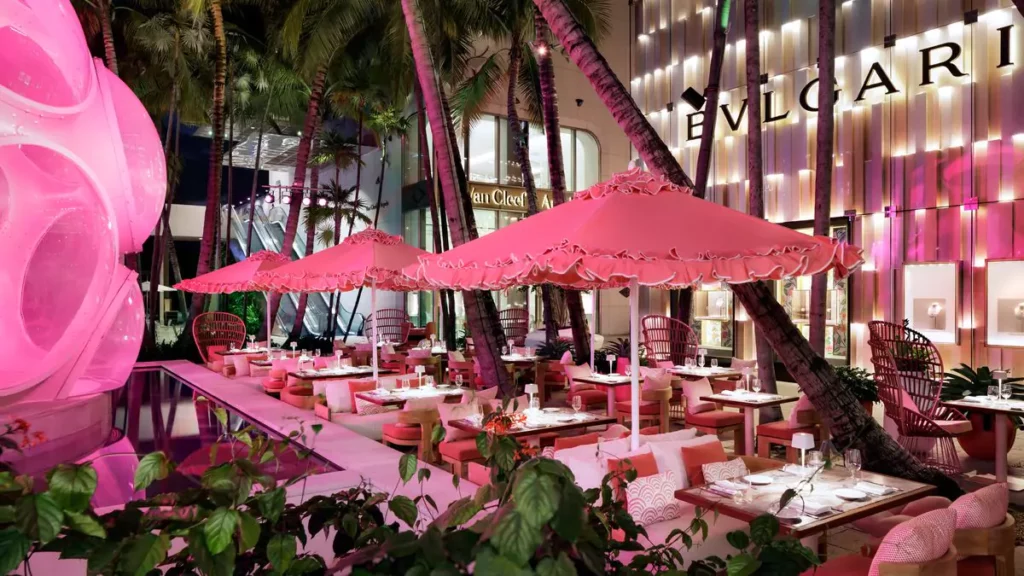 9 – Sugarcane
Easier to get a group reservation, don't overlook this hidden gem. Located in Midtown Miami, it's centrally located no matter where you're staying. A great private party room not too removed from the scene of the restaurant, menu that won't break the bank and perfect tapas style options for the group. Wonderfully executed global menu with a more easy going crowd and upbeat ambiance. Don't miss the goat cheese croquettes, bacon wrapped dates and the duck fried rice.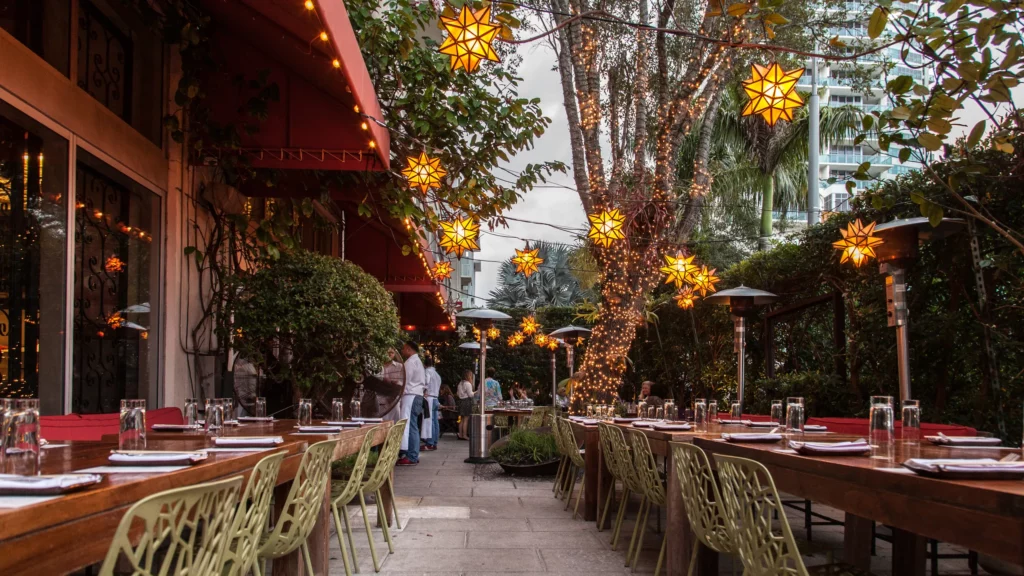 10 – Mila
South Beach – head and shoulders above the other Lincoln Road options, this restaurant does not disappoint. Close to hotels and the heart of Sobe, with gorgeous design and Tulum like vibes. Don't miss the dorade crudo and satay glazed chicken. Interiors inspired by natural minimalism with a modern MediterrAsian cuisine.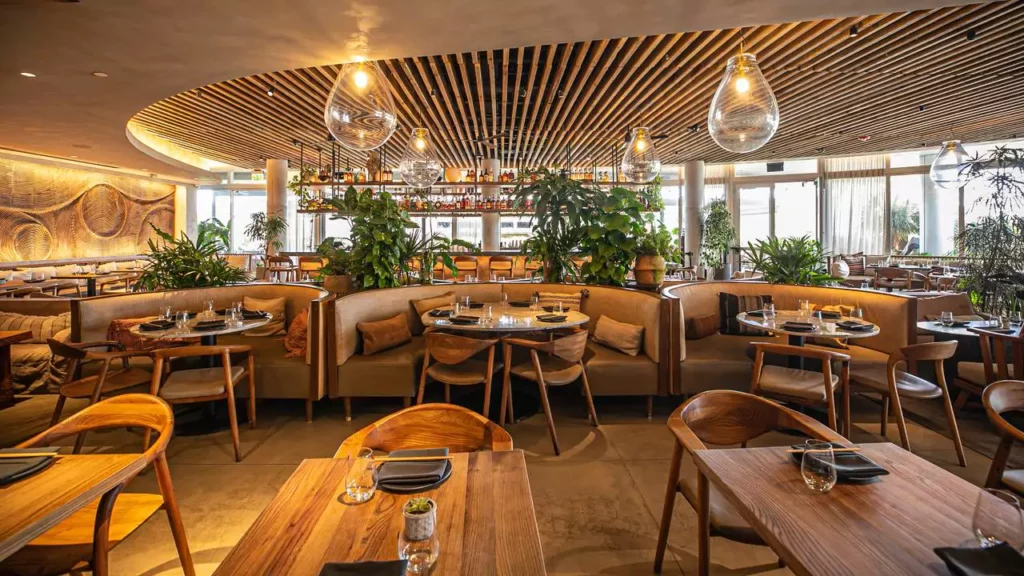 ---
Beaches
Touting some of the most beautiful beaches in the world, including South Beach, a lively scenery atmosphere or Key Biscayne for the insider local views. Highly recommend planning a boat day with a charter as the competition in the area keeps the pricing fairly reasonable for a half day. Key Biscayne offers a less discovered experience, without the tourists on every corner and over crowded beaches. Pack a picnic lunch or visit The Ritz for a margs and tacos at Cantina Beach.
Nightlife
Miami has a vibrant nightlife scene with an array of clubs, bars, and lounges to suit all speeds. Whether you prefer a casual rooftop bar or a high-end nightclub, Miami has it all. For the more relaxed bride try The Wharf, The Broken Shaker or Brickell's handful of lounges. For the party bride Bodega, LIV, Basement or Story. Best best is to find a local promoter as they're rather easy to spot!
Neighborhoods
Miami is a shopper's paradise, with a range of high-end boutiques and luxury department stores, as well as more affordable options. Shopping in Bal Harbour is second to none, also home to Hillstone, Le Zoo, and high end luxury hotels North, away from the madness of South Beach. A solid place to stay for those looking to be in a luxurious area still on the beachfront.
The Design District is a must-visit for art lovers, with its range of designer stores and trendy cafes. Design District is also home to the famously instagrammed Wnywood Walls, lower key nightlife options from South Beach and wonderful restaurants.
Coconut Grove, referred to as "The Grove" is further south, closer to Coral Gables and University of Miami. The Grove is home to Monty's Raw bar, fabulous for Happy Hour and a number of more laid back college bars. Stand out restaurants include the Peacock Garden Restaurant and Jaguar.
Brickell is the young professional more city centre feeling neighborhood. Central to Key Biscayne right off the bridge to gorgeous beaches and gated communities. Modern high rise towers and rooftop pools make Brickell the center of most of the action.
Activities
In addition to the beach and nightlife, Miami offers a range of other activities, such as art museums, spa days, and rooftop spin classes. Atrix Club touts rooftop spin classes in the heart of Brickell. Miami is the home to world class spa culture, if the group is willing to splurge be sure to check out the Carillon Miami or the spa at the Edition Miami.
Miami is truly the ideal destination for a girls' weekend, offering the perfect blend of sun, sand, over the top nightlife, shopping, and even moments of relaxation (if that's what you're looking for).